"Lets put a human on
every website

in the UK"
Business Film Booth 2015
Videos produced.
Ok so it's not exactly every business webpage in the UK, but Rome wasn't built in a day. It actually took 1,009,491 days and we're not even at 900 yet.
Double the audience retention of standard online video
A production company's job starts when your audience hits play so video needs to communicate and keep your audience engaged. Luckily you can easily measure how long people watch videos for and it is something we keep a very close eye on. In fact as a result of measuring this we found out our videos are watched on average 75% of the way through – double the online average!
Our Awards
In 2017 we picked up 2 awards for "best new business" and made a national final.
Our Certifications
What on earth is YouTube certification, we hear you cry? It's YouTube's tip of the hat that when it comes to content strategy on their platform we know what we're doing.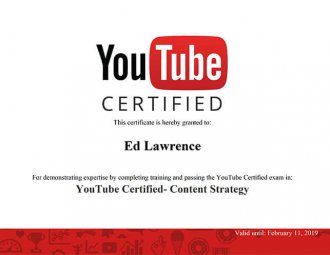 "They are not just video guys, they help get the message right"
Practice what you preach
"If video's that great, why don't you use it to promote yourselves?" A comment pre BFB that stuck with us. Portfolio of our work is helpful for prospects but it's lazy marketing. We've been using our own products to learn how to use video better since day one and as a result we've picked up loads of data and tricks we want to pass on to you.
Where's the ROI?
There are a lot of stats about video doing all kinds of amazing things. They might not however be relevant to your brand. We've wasted enough of our own money testing videos to be able to advise on the best style and use to get your desired results. Video, like all marketing, needs a return, so you'll find we won't mince our words if we don't think something's on target.
Who can we help?
Video isn't for everyone. If you've got marketing in place already that's working or have a need to scale up training and save time then we can help. With no potential viewers ready to rock and roll or a strategy to get them, video might not be the best place to invest first. The good news is that our free Ultimate Video Marketing Course can help you work this out.