Believe in something even if it means sacrificing everything
Believe in something even if it means sacrificing everything – How Nike increased sales by 31% in a week.
In 2016 Colin Kaepernick got down on one knee and knelt during the national anthem to highlight racial injustice in the United States
You might have seen the media fallout but needless to say this didn't go down well and he suddenly found himself no longer playing American football because of it.
Fast forward to 2018 and Nike decided to make the unemployed Kaepernick their poster boy, starting with this image.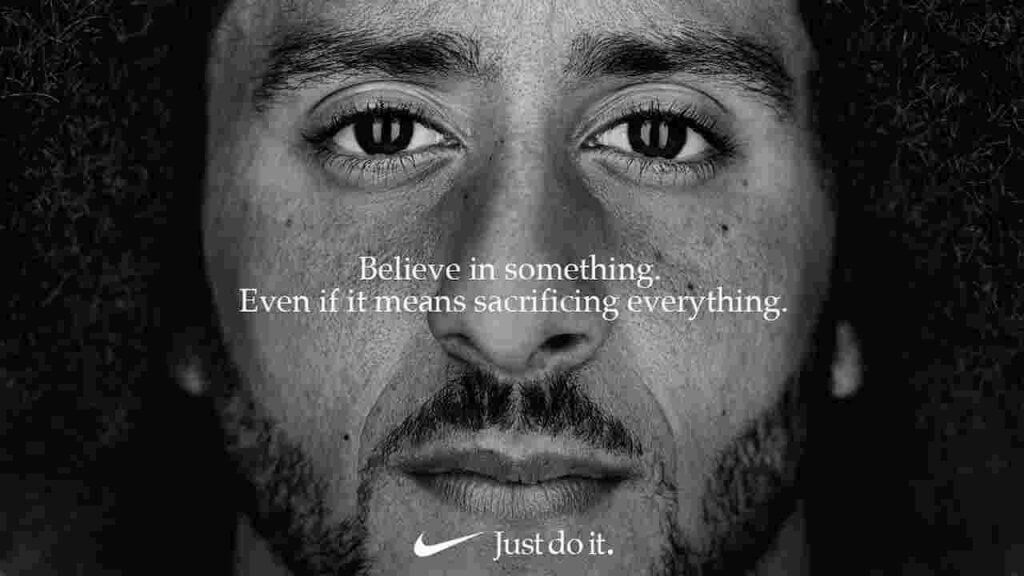 As a result people are burning their trainers, the media's going crazy but more importantly, they've taken their own advice in marketing and they are believing in something even if it has a negative backlash.
Now Nike isn't stupid, they know what they're doing and it's probably only going to result in more sales.
What they've done is something small businesses need to take note of.
They've sent a clear and defined message that has segregated their audience.
All the people with strong believes, with morals and integrity will gravitate towards them.
Now who's going to sit there and think "that's not me, I'm vanilla, I don't care about anything, just let me go back to my day job"
People will and have fought back but that is exactly what Nike wanted to happen, divide and conquer, they're hedging their bets that there are a lot more people who will support that message than will actively be offended.
Statements like this hung on to an original story allow businesses to take people on a journey in their mind just through one image…..It's genius and something we've witnessed Apple do and a host of other big brands.
How on earth are small businesses supposed to come up with something like this? Urgh!!!!!
We can't tell you what your values are but we can tell you they're not features of your product or service.
Like "Always delivering on time"
Nobody feels so warm inside and screams "USA USA" at the top of his or hers voice when they read that.
What we can tell you is you need to stand for something and when you do you'll know its working because suddenly you'll see your content getting shared and commented on.
People will call you and straight away know what it is that defines you and most probably lead with that point.
What Nike has offered is meaning, if you're with us these are the things you also believe in.
And that's a totally different proposition to we'll deliver our shoes on time.
Without this clear division and segregation of your audience, your marketing will most likely go unnoticed which is why you might not feel it's doing much.