Communicate like your life depends on it – The quick fix lead generation lie
Communicate like your life depends on it – The incredible lead generation quick fix lie
999 – we all know what this number means in the UK (Its out 911 if you're American)
But why? Well, yes it's easy to remember, but it's been drilled into us because we know one day we're gonna need it, and when we need it, we might really need it.
We're not just told this number as a 4-year-old and then never hear it again and conveniently remembered it, people talk about it all the time.
There's tv shows with it in the title, it's in film, the news, it's daily media fodder!!
The emergency services without us knowing are always reminding us they are there to help, though their own distribution and others.
In order to create a knee-jerk reaction like this with your audience, you have to hammer the same message home, time and time again, like your audiences life depends on it…. Forever!
You have to wake up and realises there is no quick fix in business despite what you might be told or sold.
The only way to get front of mind and to stay there is to always be there and the only effective way you can do that is by creating your own content.
Don't ignore your audience
When someone follows you, what you do from there is key, you can't just let them stew, you have to provide value that never ends.
Day after day, week after week that keeps replaying the same message in new and creative ways.
There's your marketing quick fix, years of persistence, not one email a month or sporadic social updates.
How long do you need to keep your audience engaged?
To give you an example here are some screen grabs of individuals who became our clients and the amount of content they have had to watch on our site alone to help convert.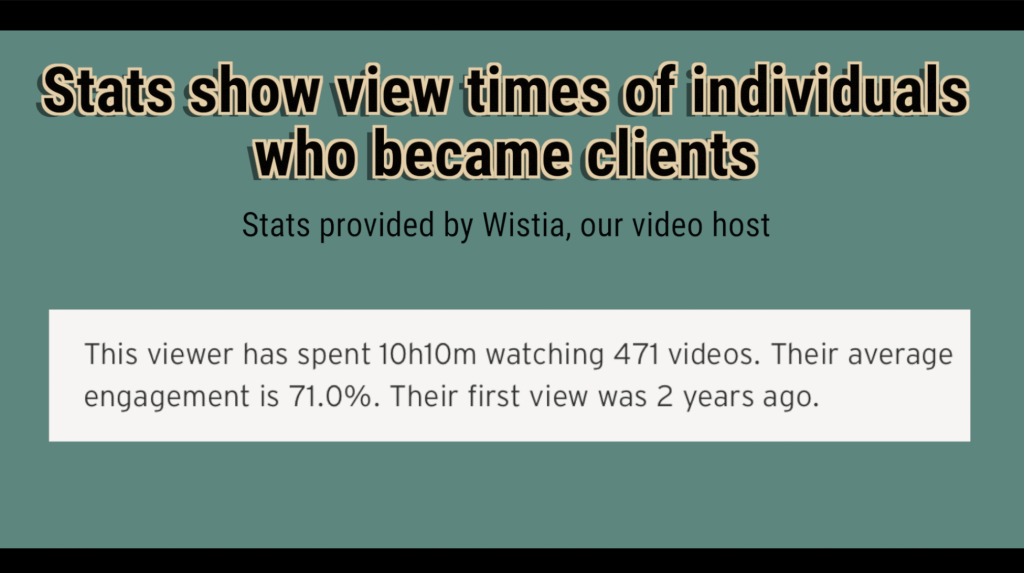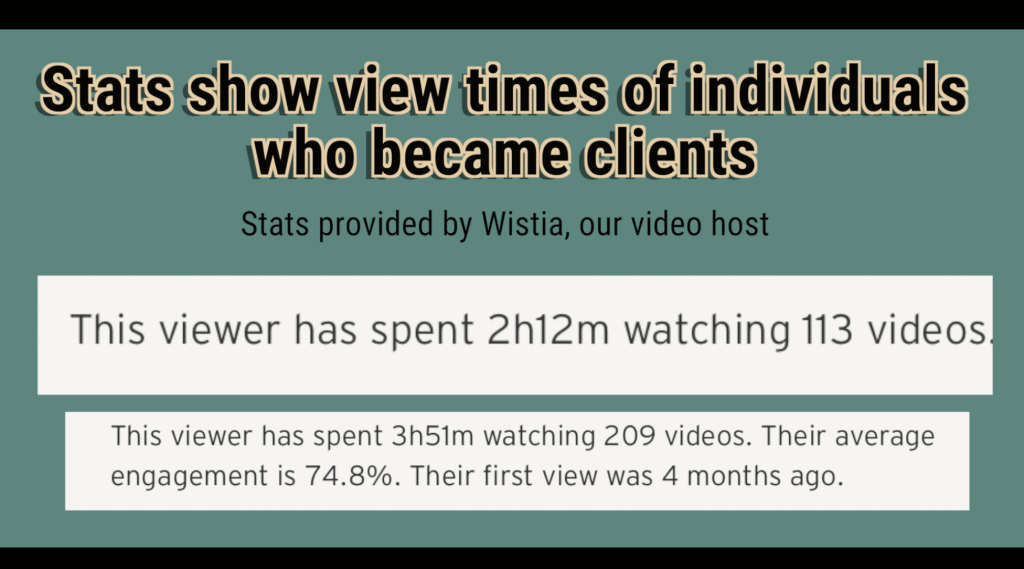 2 hours watches, 3 hours, 10 hours!!!
That's right, people will often need to experience you for a huge amount of time online over a long space of time before they buy in to you.
Its like Seth Godin says "content marketing is the only marketing that's left" and we'd agree.
Why isn't everyone making content?
Now you've probably heard this no end of times and there's a good reason that so many people ignore it.
Coming up with content is hard, many businesses say they don't have the time to come up with ideas, to produce it, or even know where to start.
But if content marketing is all that's left, what you're saying is you don't have to time to market yourself…. And that's dangerous thinking..
For us ideas come at random, common questions we hear, problems we see and reading around our subject with a genuine interest in it means we'll never run out of videos we can make.
The problem is, without the belief that this will pay off in the long run, producing its gonna be really painful and most businesses will give up, which means you've already got an advantage if you just stick to it.
One blog here or there won't work so you need to find a way to produce that you can keep on top of, afford and constantly get better and better at.
It comes down to this, what do you want to be, in ten years time? A business at the whim of sporadic referrals or one that knows every time they post new content that they new leads and the right leads that already want to work with them.