Film Booth Talking Head Videos
Personalise your marketing fast and effectively 
What is a Film Booth talking head video?
The Film Booth talking head video format is ideal for creating a personalised experience online and help content. It's short and snappy nature forces you to only include the key points making it perfect for FAQs, onboarding support, client updates. 
The personalities of your team will bring joy to your viewers eyes as they remember the good old days when amazing service was always face to face.
"Not only is it bringing in business, but it's opening doors to collaborations. Love it – here's to plenty more years!"
– Sam, Bite Me Marketing
Where does Film Booth fit in the funnel?
We'd advise that the Film Booth format was used to fill in the gaps other videos just can't reach further down your funnel. What does that mean? Well, the disposable nature of Film Booth means you can hit the Sales/Purchase  part of your funnel and really impress those viewers in to signing on the line.  It's also great for FAQ's and filling in the gaps of your website. You'll find it all over ours. 
Your client and new staff onboarding set up will give Film Booth videos the platform to get you results and increase referrals. Whilst your website FAQ's that act as barriers to purchase can be smashed down by this funky little format. 
Note: We would advise against using this format for promo.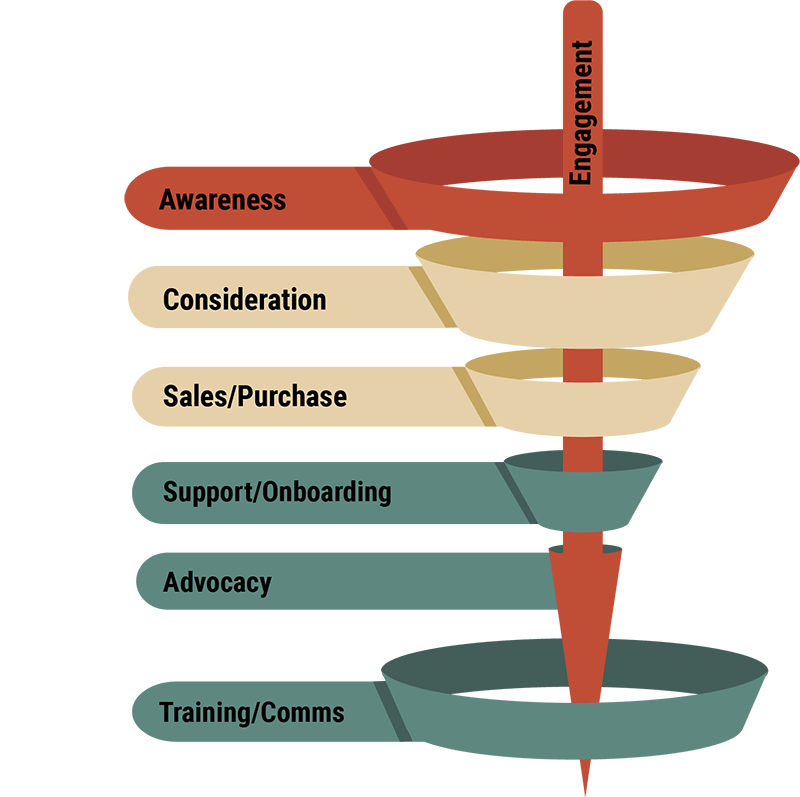 What makes Film Booth such a great video format?
• The ability to create super personal communications quickly
• Support content and planning guides for correct implementation 
• Repeatable and measurable
• Your clients will feel like they are your only clients
How to measure the ROI on talking head videos
Just like the other areas of your marketing you need to make sure your videos get return. We've built some calculators which will help you work out if the goal you have set for video is achievable. Some will give you predicted ROI over a 1 month and 6 month period so you know if video is worth adding. You'll get an idea of impact it might have on your e-mail marketing too. 
We are still building these and will add to them so long as maths exists and different areas of marketing. We don't see either going away. 
The calculators so far :
• Landing page conversion calculator 
• Whole site and individual bounce rate calculators
• E-mail marketing and video conversion increase calculator
End your content drought and easily produce high impact video content every month of the year for all of your marketing channels.
From a one hour shoot a month

Produce up to 4 videos per hour

Full direction and presenting coaching

Access to online planning and distribution content 

Includes access to discounts on our other products

Video hosting to prove performance and ROI
A video token is 2 Film Booth videos. Purchase tokens based on the amount of content you need. Each token includes:
• Pre shoot planning content 
• A one hour shoot
• Direction and presenting coaching
• Access to our distribution content
• Fully edited