How to make free personalised sales videos
How to make free personalised sales videos
Join the Booth Club below for our locked content and weekly vlog right to your inbox.
[javascript src="https://ec327.infusionsoft.com/app/form/iframe/183d131a52b67bce9e2b5a4b241478b5″/]
Links from the video:
Soapbox – Free personalised video
Crystal Knows – Access your prospects mind
Qwilr – Funk up your proposals
How to make free personalised sales videos
If you're the type of salesperson that likes to give your prospects a mountain to walk over rather than a tunnel to cruise through… then this blog is not for you.so, be on your way…
In today's world of mass automation it can really be quite tough for a salesperson to stick out of the inbox. If we examine the video marketing funnel, you'll see that engagement runs central through it all. At the top, you'll see awareness and consideration and at the bottom of the funnel you'll see advocacy and training.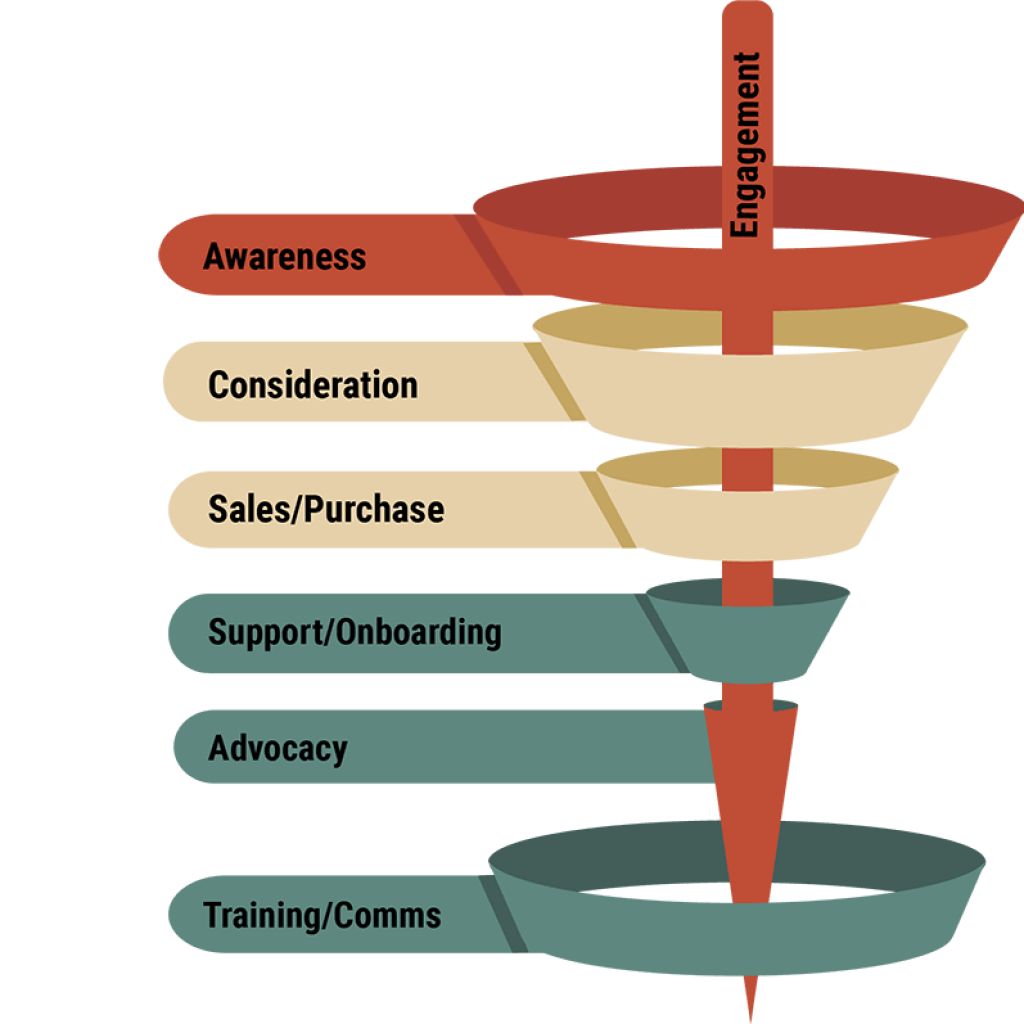 But kind of bang in the middle, you'll notice that there's a space for Sales/Purchase. It's in this space that we think video can make a real difference – for very little… or even for free!
And according to Aberdeen Group 75% of people prefer to receive personalised offers.
What is a personalised video?
A personalised video is one that's used for introductions and pitching, and one that looks authentic and made up on the spot – but it's often not. The great news is you can make them for free!! These are videos that are made specifically for an individual viewer. They are designed to make the person feel special and appreciated. From our experience, that's exactly what they do. The stats prove it too. Vidyard found that there is a 216% higher response rate with personalised videos.
And the thing about a personalised video is that it will be watched by more than just the person it was originally intended for. It will be shared around and sent to other people in the decision making team.
How do you make free personalised video?
So, how do you make personalised video? Well, first of all you need a computer with a webcam. Once you've got that you need some sort of video platform.
There are a bunch of them that do this but we are going to recommend one, Soapbox, hosted by Wistia because it's just so simple to use.
Get on your Soapbox for free personalised video
It's great! You can show yourself, you can show what's on your screen – or you can show both together. You can film in there, you can edit in there, and you can generate a link that displays a lovely thumbnail image in the email.
How to sell in personalised videos
The thing is that the best sellers in this type of environment are the ones that just come across as being themselves. It doesn't need to be highly polished in terms of delivery, but it does need to be structured well.
It's a pretty unnatural experience, so get your team to practice before they actually go live with this – and throw the video around the team to get some feedback.
The best tip we can give around all of this is to never go with your first take. Unusually – considering you are supposed to be coming across as authentic – you need to go with 2 or 3 takes. Then you'll start to notice the one that is working.
As Mark Twain once said, "It usually takes more than three weeks to prepare a good impromptu speech."
Stay away from talking about yourself. What you need to do is direct the conversation to being about how you can help that person or that brand.
2 Top secret software to supercharge your personalised videos
Once you've got that down, there are two pieces of top secret software that will help you to supercharge your personalised videos…
Crystal Knows is mad! It accesses a massive bank of DISC profiling records to give you the linguistics you need to use to appeal to your exact target.
It will format your emails for you, tell you the sort of cues you need to use with that person, and even help with sign offs.
Qwilr is a personalised proposal bit of software that allows you to funk up your proposals with personalised videos, images, graphics – all sorts, in fact!
Basically, it will impress the pants of your prospects!
The cold calling days are slowly moving on to a hyper-personalised and human sales approach.
And the brands that adopt it first will do down in history as the frontrunners.
[javascript src="https://ec327.infusionsoft.com/app/form/iframe/183d131a52b67bce9e2b5a4b241478b5″/]