Why SMEs should Ignore the marketing stats – Video statistic 2018
Video marketing stats are Jackson Pollock's – Mythbusting
Why SMEs should ignore the numbers, including that one
What do you see when you look at this image?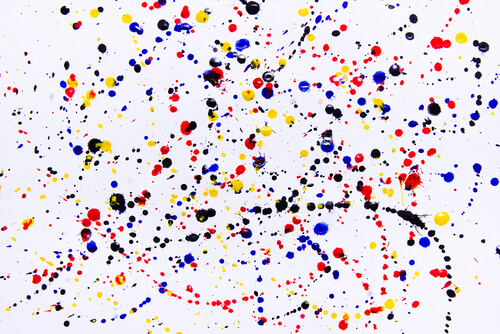 A big dog hunting? Or perhaps maybe a man on a pogo stick eating a bounty fighting a giant flying Rhino with the face of a baby giraffe?
And that is the state of marketing stats.
For example the stats you get from your marketing company when you ask them where the leads are this quarter and like The ones you see about video all the time.
Really they can mean anything to anyone, can be distorted in to anything, can be made to look good or bad and are just like Jackson Pollock's paintings.
We decided enough was enough and took some of the video stats we see all the time and go myth busting.
Video marketing stat number 1: Video increases conversion by up to 80% – Although you see 64%-80% on more modern site.
The myth: By simply having a video somewhere,, anywhere…they don't state where often, you will increase conversions by up to 80%…
The truth is conversion could mean a whole host of things, it could be an email sign up, it could mean someone has just clicked a button or it could mean it ended up in a sale.
If as a small business you're coming to video with an 80% increase in sales in mind then i'm afraid you're setting yourself up for a fall.
The Truth:
You should not be thinking how much conversions you will win with video you should be thinking how much should I lose with this.
Your audience now expects video as part of your communications.
Video marketing stat number 2: 81% of businesses feature video on their branded website
This might be a record myth busting exercise. We typed in "Accountants London" as a general overview of the business world and took the top ten searches and we found that 2 out of the top ten searches used video. (A really in depth experiment that….)
Maybe we should be saying that 80% of businesses don't use video!
This is another conveniently impressive number designed to give you fomo.
It's also narrow minded in it's approach implying your website needs video as priority. What about your training? What about your support? What about your social media?
The Truth:
Don't panic buy a video for your website because you think you need one, spend the time to work out what area of your marketing and communication could do with a video boost.
Quick fire video marketing stat myths:
"82% plan to spend more on video" What does that even mean!!!!!
"34% of B2C marketers say it's crucial to success" – Crucial?
"Video increase open rates by up to 19%"… We'd actually agree that ones more accurate.
So what video marketing statistics should we believe?
The point is, come rain or shine there's always a stat out there when it comes to any form of marketing especially video.
If your goal isn't in line with the touted result then it's meaningless, ignore it.
If you want to know some key stats for video then here's the ones we measure for impact.
Key statistics you should measure for video marketing.
Engagement: Aim to try and get your average viewer watch time of a video above 75% on your site and 60% on other platforms. If you hit this is means the contents working.
Play rate: Track how many people are clicking play on the videos on your website that could have done. If it's only a small percentage it means either it's too far down the page, the thumbnail image doesn't give people enough insight as to what it's about or people just don't want to see it!
Shares: If people share your videos then it means they are awesome, it's the ultimate goal to aim for. Track shares for metrics or people tagging their friends in your content, the more of these the better.
Tracking these metrics will results in your own pool of awesome stats that don't come from an e-commerce survey taken 8 years ago in North Carolina.
So the next time someone tries to sell you something with video stats that sound too good to be true, tell them it's all Jackson Pollocks.