Lessons learnt in 2018 – GDRP breaches, LinkedIn & being weird
4 Vlogs from 2018 that got traction even though they were weird
Lessons learnt in 2018 – Breaching the GDPR, LinkedIn & being weird
LinkedIn rocked!!! Oh and then it sucked. You came so close Linked In!!!
In 2018 LinkedIn introduced native video so instead of posting a link to a YouTube video or a link to a video in a blog, you uploaded it to the platform so it housed the content.
LinkedIn went crazy with it, giving video massive reach! More than we'd seen on any other form before.
This meant loads of views, comments, shares and leads off the back of individual videos, hurray!!
But then at the end of October, LinkedIn went and changed its algorithm and….. Well, the glory days seemed to pass and now the reach has tumbled….
What happened to the LinkedIn Algorithm to drop reach?
LinkedIn basically changed the algorithm to give the influencers less time on your timeline thus freeing up more space for regular Joes like us. Which sounds like a great idea!
The realised that people with smaller followings would see a huge impact and really appreciate 10 likes so they wanted to increase the appreciation of the platform.
In the end, it just seems to have impacted us all. It's not to say it won't come back,
This brings a key learning and message of warning for ya'll out there.
Don't rely on one platform and one platform alone.
You are at the mercy of algorithms. There's a famous saying about chickens and eggs you might be aware of.
You need to use social platforms alongside a website where you can control everything on it because you won't suddenly decide to delete the most visited page of your site, will you!!
Then you can build your e-mail list so you have a following you can regularly update which is again, actually under your control.
This did however make use super smug about making this, which predicted the whole thing happening.
Lesson number 2: We broke a GDPR rule… And everything was ok
Our high and mighty data protection officer (Ed). Went and done a boo boo and cc'd a list of our clients into an e-mail instead of bc.
This is a breach of the GDRP which meant we had to contact the ICO to state it and guess what! They were absolutely lovely about it!!
No seriously, they talked us through the whole process, had a bit of a giggle when Ed sent them 3 e-mails in a row without the required attachment in and after the following everything by the book, they came back with an e-mail stating that
"Based on your submission, no further action is needed but we would advise more training for the staff"
Even though it was our data protection officer who made the mistake….Whoopsie
So if you do make a GDPR mistake, even if it appears small, don't be too scared of the ICO to tell them because if you don't you might end up in really hot water.
Lesson number 3: The more risk we took, the more traction we got.
The final thing which we found really interesting this year was that the more we took creative risks with our own content, the better it performed. And we really pushed up the level of absurd this year to a point where we were worried about sharing it.
Our most watched, viewed and shared vlogs involved us spitting coke in each other's faces, dressing up as a pirate and other random hijinx.
It might sound like straight up silliness but this is something we don't encourage for the sake of it. Use humour to help get a message across or to get information to stick in peoples minds, not just because you want to try and make people laugh.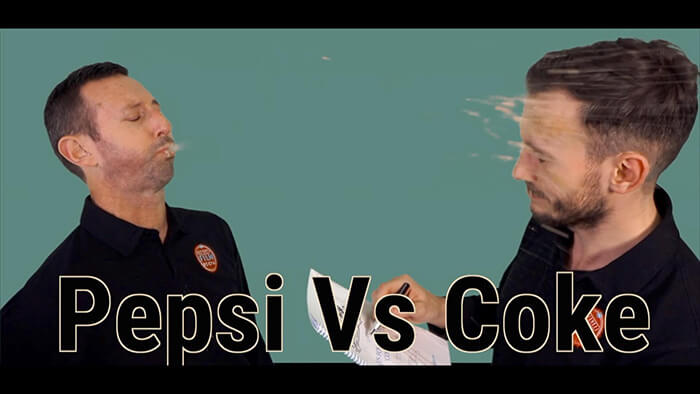 Each time we thought we'd gone to far…. We ended up with new conversations starting, larger reach and results from videos that even surprised us.
The thing we learned was that there are a lot more weirdos out there like us than we expected and it was this that was the key to helping us realise our true business values.
It's attracted more of the type of clients we want to work with and more importantly who want to work with us. It helped us differentiate.
The result of this seemingly random communication is that the businesses who get in touch are on the same wavelength, we get to make more playful and creative content with them and they appreciate it even more, especially when it works so well.