Why the "best" marketing ideas suck
Why the "best" marketing ideas suck
The Philippines, 7000 tiny islands of paradise and an ever-growing travel destination because, well, look at it.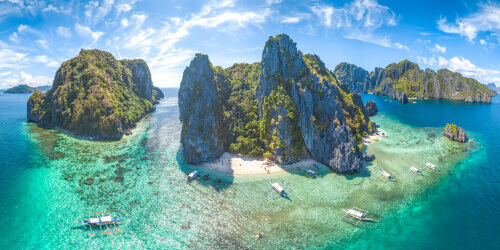 The thing is, I was sold this heavenly destination back when I travelled there in 2018 but when I arrived, I was met not with a heavenly destination but with a queue, and a crowd that, well, it didn't leave the best lasting impression.
Luckily after heavy storms trapped us on the island with what seemed like nothing to do for potentially days, we were forced to stop and think past the top suggestions on Trip Advisor and Google and work out what to do to save our entire adventure.
And that's when this happened. We found a way of getting to tiny islands, with no people on, where we could swim with clownfish and accomplish what we had been initially promised. A remote paradise.
It got even better. We somehow ended up on a tiny island with a few more people, but this one included a free bar where we were waited on with cocktails all day. It sounds like a made up story so here's the link to the hotel that provided this.
Digital marketing has become much like the Philippines or any popular travel destination, the "best things to do" technically are, but when everyone else does them, they lose their impact.
For years we've been told to write blogs, post on Facebook, LinkedIn, create webinars, focus on Google and as more and more people have done exactly what they should. The platforms have punished us with less reach, more expensive ads and less effective results.
To make matters worse, there's never been more content out there encouraging you to keep doing this, adding more congestion and sharpening the double-edged sword.
And at some point, this content bubble is going to burst.
So what's the answer?
You can't stop making content, that's not going away.
As a minimum, it needs to be radically different, entertaining and so detailed that when people do find it, it creates the feeling of being on the Philippines trip you had been promised.
And of course, it needs to be video because how else are you going to combine all those things most effectively?
It means is letting go of the page one obsession, the viral post and the mass market when you come to distribution as you can't beat the queue anymore.
It's time to look at ways of getting seen that may currently have a smaller following, but are growing steadily with a loyal following so that you stand a chance of the results the other platforms promise.
Think about it. Would you rather be a local celebrity or a national nobody?
Some new "best marketing" options to consider.
This is a privacy conscious search engine grew 55% last year. Yes in comparison its a speck of dust compared to Google, but as more people begin to rebel with having their data sold, why not try to dominate it with your content now?
This is a social app for making short videos, it now has 800 million users and 70 million daily sessions and is one of the fastest growing platforms.
Its advanced editing software allows people to create eye-catching video at the push of a button.
Right now it's mainly made up by a young demographic, but that's how Facebook started.
Imagine going back in time armed with all the knowledge you have about how much that would grow! Imagine if you got in before they even had ads and gave peoples posts colossal reach!
Your business could be telling a very different story to what it is today.
But it's not all about finding the unicorn of marketing if you are still interested in page one of Google.
Platforms like Quora, where you ask and answer peoples questions, provide a way of getting in the back door of search engines and it won't take you years.
Quora is the 80th largest website in the world, which means it has a powerful, powerful domain authority.
Questions and their answers appear on page one of Google all the time as a result of this. We've seen questions about video marketing with 600,000 views that rank top on Google!
Not only that but you can add your videos to the answers meaning your content can build a following on Quora, YouTube and Google without it costing you a penny and without the dismal reach.
Let's face it, that's something rare in this day and age.
The point is, these platforms might work for you or they might not but either way you can stand in the queue until its too late or you can think outside the box and look at all of the other forms of marketing and communication out there that actually might give you the results you've always dreamed of.